At Hartwood Timber, we have a deep-rooted love and respect for the natural environment and the ecosystems of the world. Since our inception, we wanted to put nature and sustainability at the heart of all our operations, from the way we generate electricity in the workshop to the kinds of wood we use to create our amazing range of bespoke wooden gifts.
As a responsible retailer of timber products, we only use wood which has been certified by the Forest Stewardship Council (FSC). It was established in 1993 to ensure that the forests of the UK and wider world are managed responsibly to preserve this gift for future generations. When one tree is cut in these forests, it is replaced by many young trees so in the years to come we actually have a greater supply of this amazingly beautiful material.
When you buy an FSC certified product from Hartwood Timber, you're actively protecting the forests of the world.

To bring life and longevity to handcrafted wood products like those we diligently create here at Hartwood Timber, it is necessary to finish with oils to nourish the timber and prevent it from becoming dried out due to exposure to the air. These oils form a thin layer, providing a penetrating nourishment to the wood so it endures and stays solid for its lifetime.
Many oils these days contain harmful Volatile Organic Compounds (VOCs) which can release vapours. These can negatively affect not only the people working with them and cause issues such as eye irritation and breathing problems, but the environment too by enhancing the greenhouse effect and polluting groundwater.
Hartwood Timber is committed to only using VOC-free oils for all of our products. This ensures a natural, food-safe finish on each one of our handcrafted timber gifts, without compromising on a beautifully finished product.
Woodworking naturally generates a lot of sawdust as we carefully craft our pieces of timber into the gifts and product you love. To make sure that we are committed to a low waste way of working, we take that sawdust and recycle it into heating briquettes which can be used to fuel fires without using fossil fuels.
We're dedicated to incorporating renewable energy sources into our daily work too, so that's why we have an array of solar panels connected to the workshop to provide electricity for our lighting and woodworking machinery. It doesn't provide all of the power we need, but it's one step closer to becoming an environmentally responsible business which seeks to give back to nature, not just take from it.
Wherever possible, we seek to reduce our overall carbon footprint as a business, and since 2020 we are proud to have been involved in a carbon offsetting scheme so we can balance the portion of our manufacturing which is not yet carbon neutral.
Contributing to a sustainable, carbon neutral way of business is something we hold in high significance. At Hartwood Timber, we use approximately 3 tonnes of carbon per year in our operations, and to combat this it is recommended to plant 3 trees a year which can absorb that amount of carbon from the atmosphere.
However, as with our handcrafted products, we always seek to go the extra mile, and we partner with a scheme which plants 360 trees on our behalf every year to offset not only our carbon footprint, but that of many other businesses too!
Not content with just making our workshop as green as it can be, we have even placed our website hosting with some of the most efficient data centres in the UK. These use free cooling techniques, hot/cold isle containment and 100% renewable energy. They boast a large PuE (Power Usage Effectiveness) rating of 1.2, and their environmental management policy is externally assessed to ISO 14001 standards.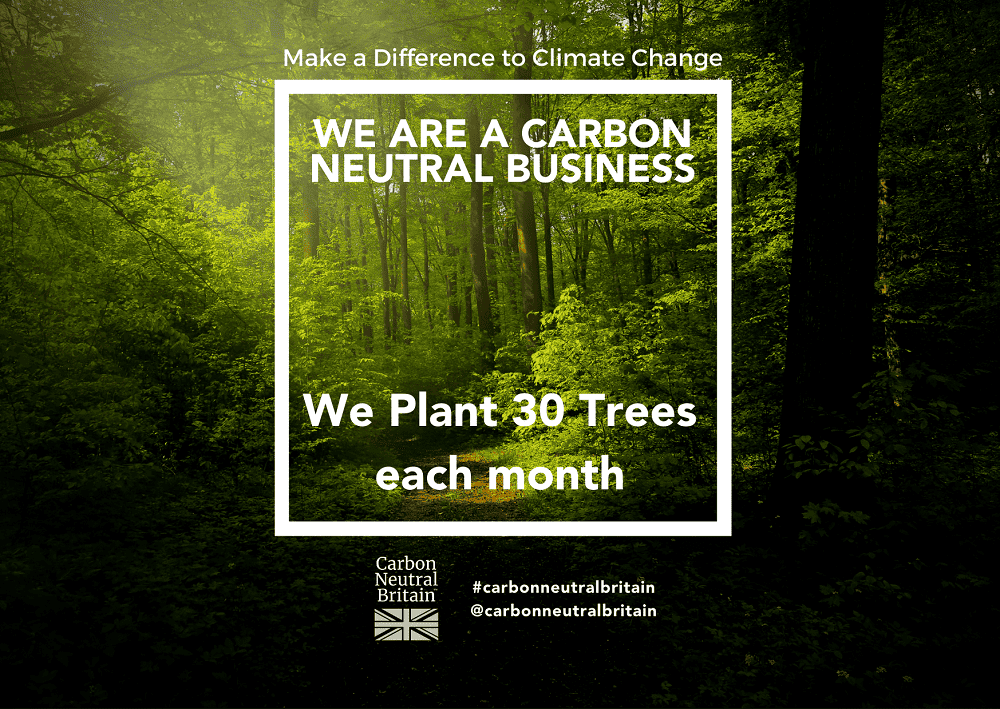 So, when buying your gifts for family and friends this year, you can rest safe in the knowledge that a purchase from Hartwood Timber is doing more than just making them smile. From offsetting carbon emissions to working with only high-quality sustainable timber, Hartwood Timber is leading the way in environmental ethics not only here in Great Britain but around the world too.